I had to pick some stuff up at Safeway today because the commissary was closed, and well, Safeway wasn't LOL. Let's just say I don't shop much out in town.

This is why.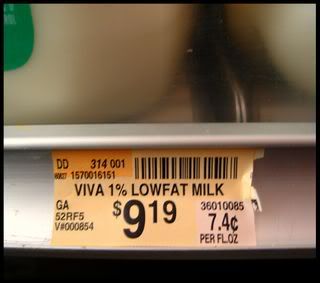 Can you belive it was actually $10.74 a couple weeks ago? Too bad I didn't have my camera on me then... its ok if you don't believe me LOL.
I know what you're thinking. This is INSANE. Thank goodness I can utilize the commissary most of the time and get away with paying just under $6 per gallon instead. I wonder if housing would get mad if I got a cow for my back yard? Not only would I get my milk FREE, I'd have a built in lawn mower!

No wonder there is so much poverty here...