WHEW! Where to start? Two weekends ago we went to a little Halloween party that was put on by the Navy MWR. Dubbed "Trunk-or-Treat," I thought the party was going to be crap-tastic because the children would be trick-or-treating from car trunks. Turns out, it was pretty fun in that the car owners went all out decorating the backs of their SUV's and mini vans.
Anyway, it was raining, so the boys couldn't wear the costumes that I made for them (they're made from posterboard). So we made a last minute stop at the Navy's thrift shop and scored some super hero costumes for $.50 each! And at that price, I also stocked the boys' dress up costumes stash. NICE!


Shootin' webs at you!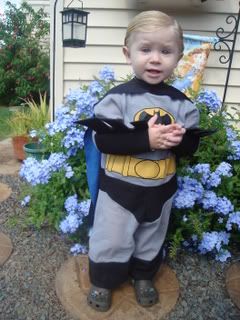 And how CUTE is my little Batman??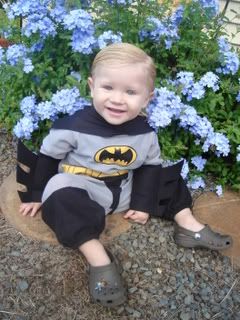 You know you want to squish him :)Then this week at preschool, Conner's class had a Fall party (not to be confused with a Halloween party). Curtis was off from work this week, so he was able to tag along as well.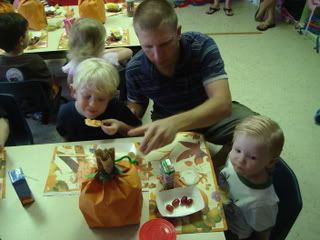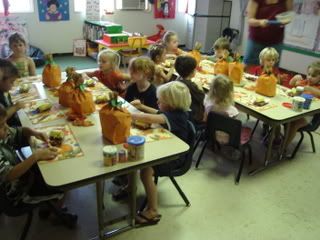 Decorating sugar cookies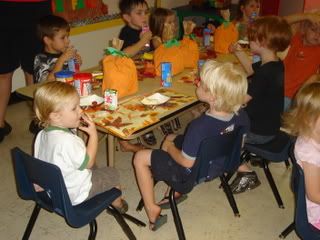 Aren't those paper bag pumpkins such sweet centerpieces?

After the cookies were devoured, the kids listened to a Fall-themed Bible story. Then they all stood up and performed a cute little song. I think you'll have to click the video at the end of this entry to play it. And don't forget to turn up your sound!On Thursday, the kids played dress-up. Here are the Garnette's... my adoptive daughters. Conner was in school when I took this photo, and when he saw it later on, he was not too pleased to see his Jordie wearing his costume hahaha :p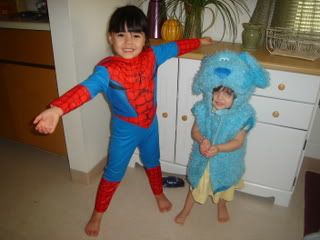 Fast forward to Friday night - HALLOWEEN! And NO RAIN! WOOT!


Conner had long ago requested to be a chocolate chip cookie for Halloween. Then it morphed into him being a "silly cookie" (NO idea where that came from). And then one day he says to me, "Mama I want to be a silly cookie that plays trombone! Brrrrrr!" For probably 2 weeks he insisted that he would play trombone on Halloween. Curtis totally fell for it, and we exhausted ourselves one evening driving all around town trying to find a dang trombone - or any darn horn, for that matter. Turns out, toy horns are SO last year. The hot musical toys are guitars. THANKS Guitar Hero. We ended up getting him some kind of bike whistle/horn thingie. He called it a trombone and all was good.


My adorable little M&M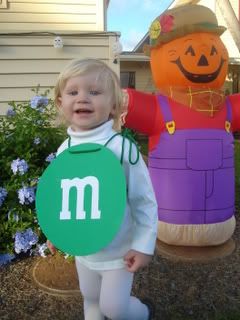 Yes, he's wearing little girl's tights. And a turtle-neck in Hawaii. And a shabby little home made costume. But gosh darn it, he's freakin cute if you ask me. Who knows how many more years my children will allow me to subject them to such torture ;)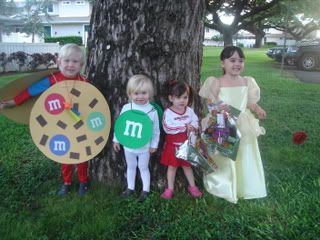 Here we are with those pesky Garnette's again. They were all SO excited by this point!


Look how sweet Jordie's Belle costume is (from Beauty and the Beast). Her mama sewed it from her own old sub-ball maternity gown. Neat, huh?! When I grow up, I want to be able to make cool costumes like that ;)


Trick-or-Treat! Smell my feet! Gimme something good to eat!
Look at my -er, ummm- THEIR loot!

And to cap off the weekend, we went to see Wall-E at the dollar theaters, then headed to the carnival at Hickam AFB. The kids had lots of fun, but oh man my wallet is still crying. I took Conner and Jordie on the Scrambler (a big-kid ride!) and they had a blast! After that they got their faces painted.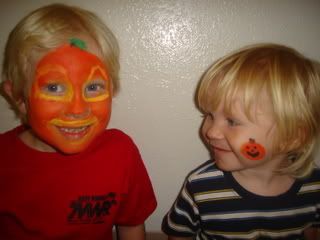 PUMPKINS! :)
Click this video!